The Bulloch County Board of Commissioners will vote Tuesday on a resolution for a contextual marker near a Confederate monument in at the Bulloch County Courthouse in Statesboro.
The resolution was released Friday with the agenda for Tuesday's meeting. The marker seeks to add context about slavery, the monument's erection to intimidate African Americans at the time, white supremacy, and a correction to what the marker says is history's improper suggestion "that the cause for the Civil War rested on southern honor, inequitable taxation, and states' rights rhetoric – instead of its real catalyst – African-American slavery."
If approved, the marker would reflect the following verbiage: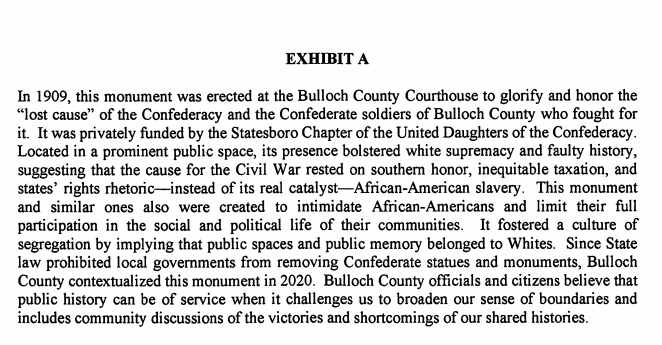 The Bulloch Commissioners approved a policy three years ago prohibiting monuments, signs, or other structures from being placed on the courthouse property and approval of this marker would be an exception to that existing policy.
According to a staff report for informational purposes:
Representatives of the Willow Hill Heritage and Renaissance Center have requested that the Board of Commissioners allow a contextual marker to be placed adjacent to the Confederate Memorial Monument on the Courthouse Square with language substantially in the form of Exhibit A to the attached resolution.
On April 18, 2017, the Board of Commissioners adopted a policy that provided that on or after April 18, 2017, no monuments, signs, or other structures intended to be of a permanent or long-term nature shall be permitted to be constructed or installed on the Courthouse Square other than those deemed necessary for the official functioning of the Bulloch County Courthouse.
Approval of the attached resolution would allow installation of the contextual marker as an exception to the policy, but the policy would otherwise remain in full force and effect.
The resolution as proposed is below. You can also read the resolution here.