A man infamous in the City of Brooklet for his tenure as Chief of Police is running for office to serve in our nation's capital.
Lawrence Norville Douglas Meyer III (formerly 'Max Meyer' and 'Clifford Meyer') is running for Congress in Tennessee's 4th Congressional district against Republican Congressman Scott DesJarlais. He announced his campaign late in 2019, but has been campaigning heavily as the primary election approaches.
According to filings with the Federal Elections Commission, Meyer had $69 cash on hand at the close of the last reporting period. Two individuals have donated to Meyer's campaign, which showed showed $8,137.47 in receipts, though $6,972.16 was in loans, leaving $1,165.31 in contributions. Meyer has spent $8,068.26, mostly on signs, banners, magnets, and wraps. The incumbent has over $211,000, according to the April 2020 campaign reports.
Meyer has drawn ire from publications in Tennessee which have donned him a 'racist' and a 'proud boy hungry for civil war.' A November 2019 article in the TN Holler featured a number of Meyer's social media posts which include references to public school curriculum as 'mind-numbling bullshit' and to Muslims as "sandbox turds." One post depicts a 'Sharia Barbie' that 'comes with a Jihab, Bruises, and Quran.'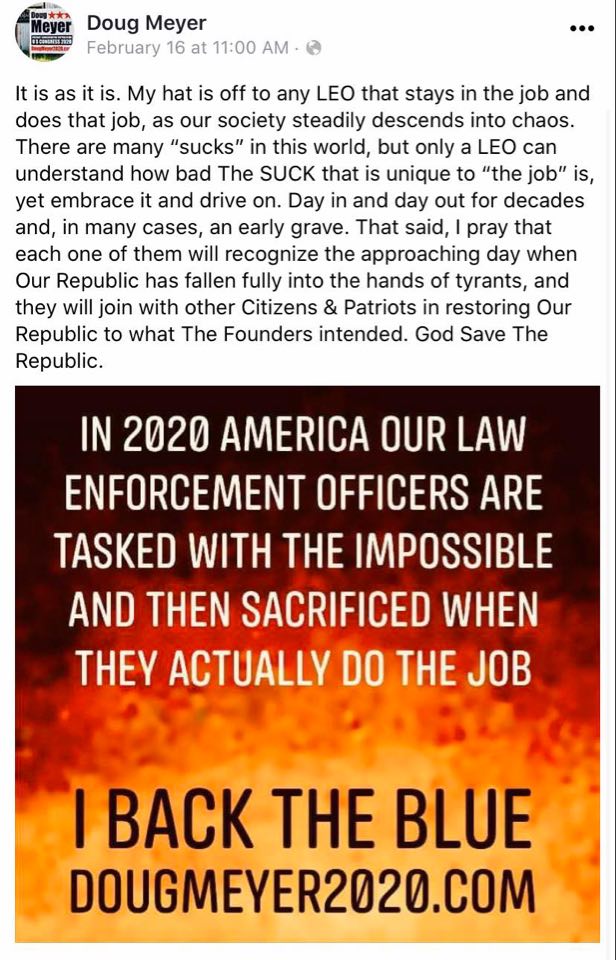 Meyer abruptly resigned from the City of Brooklet in February 2018 after an explosive incident with a resident who sought to file a complaint against the police department at city hall.  Meyer moved to Tennessee, but video of the incident went viral and prompted a number of internal affairs investigations, inquiries by both the GBI and the FBI, and resulted in five federal lawsuits against Meyer, three other officers, and the city. 
When Meyer was Chief of Police in Brooklet, he served as the Chairman of the Bulloch County Republican Party. He left the post after less than a year when he left the state.
The 4th Congressional district in Tennessee encompasses Murfreesboro, Cleveland, Smyrna, LaVergne, and Shelbyville, but constituents reach the suburbs of both Chattanooga and Nashville The demographic breakdown per the 2010 Census is listed as 43.84% rural with a black population of 9.23% and a white population of 84.5%. In 2016, Trump defeated Clinton with 68.6% of the district vote. DesJarlais defeated a primary challenger 52-43 in 2016 as well.
DesJarlais has represented the 4th district since 2010 when he was elected during the Tea Party movement. He was the first challenger to defeat an incumbent Tennessee congressman in a general election since 1974.
Meyer, DesJarlais,and another Republican – Randy Sharp – will face off on August 6, 2020.