Drivers from around the region are joining members of the Bulloch County community in calling on state lawmakers to place a traffic signal at an intersection that has proven to be deadly on more than one occasion.
Where Brooklet-Denmark turns to Nevils-Denmark Road in Bulloch County, it also crosses Highway 67 – a corridor connecting Statesboro and the outer limits of smaller communities, like Nevils and Brooklet, to Interstate 16 and Bryan County. For years, the connection point has been deemed 'the Devil's Triangle,' also including the intersection of Nevils Denmark at Highway 46, where critical and fatal crashes have claimed the lives of travelers. But as the area has grown, so has the number of accidents – deadly or not – for reasons ranging from speed and heavy tractor trailer traffic to intersection angles and even vision impaired by the sun. That's why Bulloch County residents are calling for change.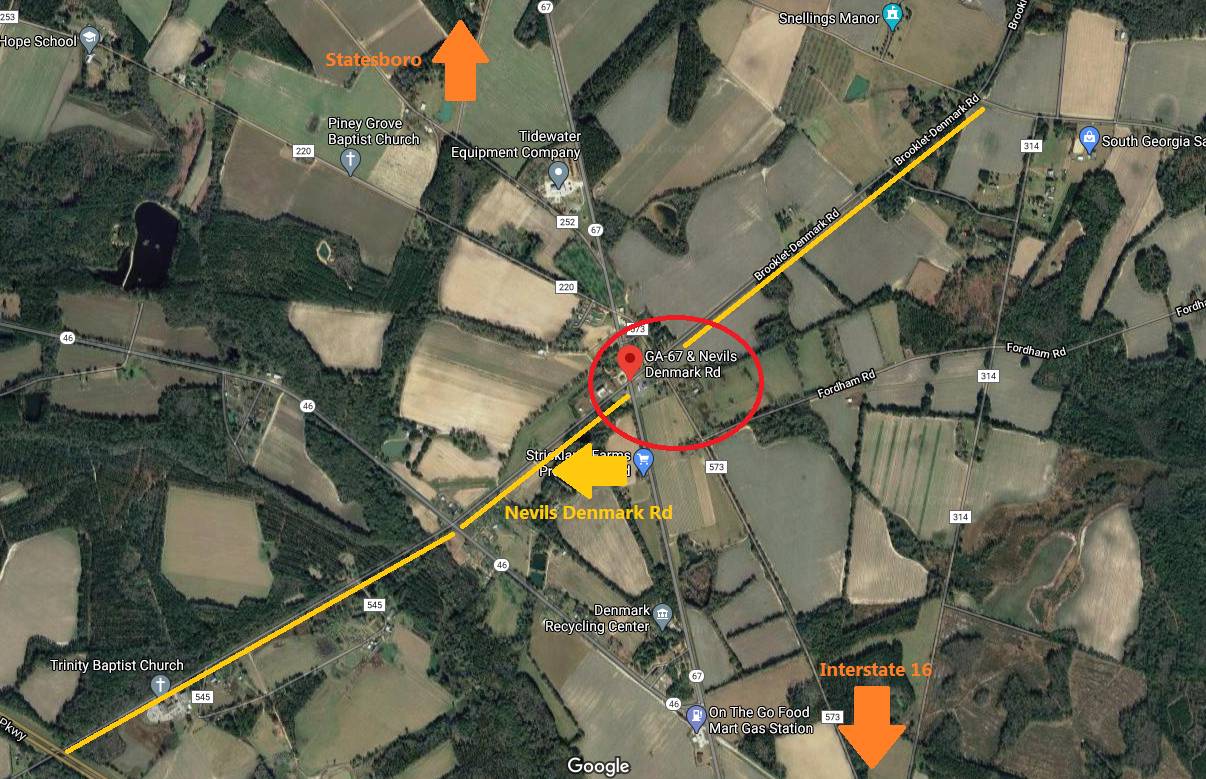 Bulloch County Commissioners have fielded complaints for years, but because Highway 67 is a state road, it falls under the purview of the Georgia Department of Transportation, not the county. Now, they're asking their state lawmakers for help, including State Representative Jan Tankersley and Senator Billy Hickman.
The petition, which was created on September 3, calls on lawmakers to proactively replace the yellow caution light with a four-way traffic signal in an effort to improve safety. Two days after the petition was created by a Nevils-area resident, it had already garnered more than 2,200 signatures.
A number of signers indicated they avoid the area entirely because they feel like it is too dangerous.
Requests have been made in years past, but at the time, the state concluded after a traffic study that the traffic on Nevils Denmark Road was not sufficient to justify the light. Not only has traffic flow increased on the road, Highway 67 was just expanded from two lanes to four. Residents say they are worried the problem will only be exacerbated by the wider highway, especially for the many school buses and agriculture vehicles that frequently cross the busy state highway and the young drivers traveling from the high school.
A traffic study would need to be completed again in order for the state to begin the process. If the study concludes that a signal is necessary, installation will begin, with costs ranging $160,000 and $180,000, according to GDOT. Those numbers do not include additional road construction to accommodate turn lanes or medians, however, drivers say that's a small price to pay for a safer intersection traveled by so many.