The soon-to-be new city manager in the City of Guyton will have the increased benefits of a take-home vehicle and a city gas card in addition to his base salary.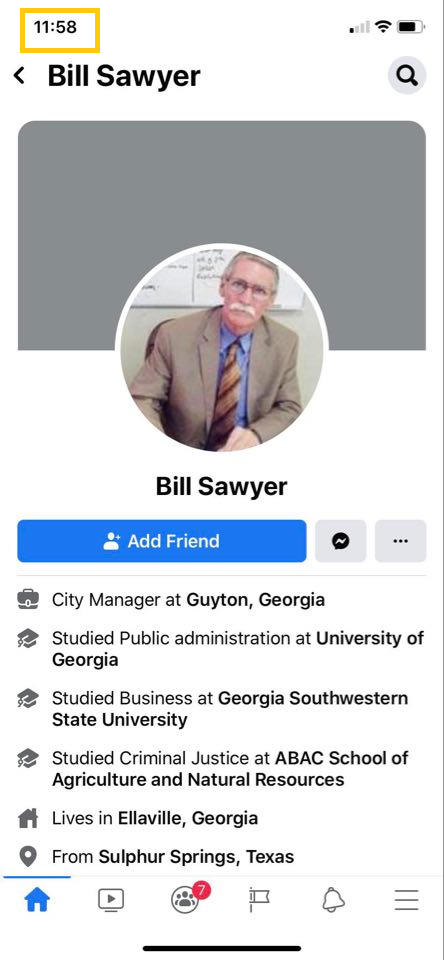 The City of Guyton is slated to have a special-called meeting Thursday evening to approve the contract with Bill Sawyer, who the city announced was the final contender for the position which has been filled on an interim basis since December 2019. Sawyer's personal Facebook profile already had him listed as an employee of the City of Guyton as of lunch on Thursday.
Resident Andy Harville made a number of requests to see the contract ahead of the special-called meeting, which was announced Tuesday, but was told the contract was still being revised. The contract has reportedly been negotiated between interim city manager Brett Bennett and and Sawyer as Mayor Russ Deen posted on his official social media account Thursday that "Mr. Bennett and Mr. Sawyer went over the contract this morning to address some final points and it's just gotten back from the city attorney…The major points of this contract have been discussed with me prior to the final version." The agreement was placed on the city website around noon on Thursday.
The contract outlines a $65,000 base salary for Sawyer, a city-maintained vehicle that will be available for use in his official capacity as well as for transportation to and from his residence, and a city gas card. The liability insurance and vehicle upkeep will be the responsibility of the city.
Sawyer will be evaluated at least once annually, will work a 40-hour work week, and will accrue 10 days of vacation time and 5 days of sick leave.
Other notable clauses in the contract include:
Issuance of a city cell phone;
Notation that suspension and termination is limited to 'suspension with full pay and benefits' and termination. Suspension without pay is not permissible under Sawyer's contract;
Should Sawyer resign, he must give the City 30 days notice;
Participation in the city retirement program;
100% of vision and dental plans for Sawyer and group life insurance, if he elects to utilize it.
Sawyer will not be eligible for the group health benefits plan.
You can read the entire contract here.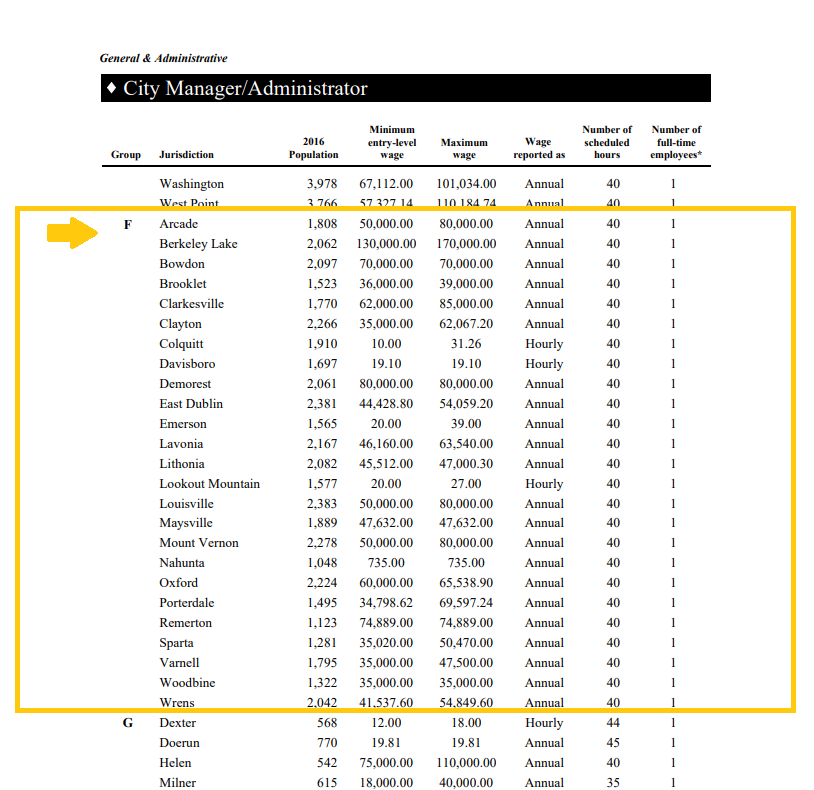 According to the Georgia Department of Community Affairs website (Section F under City Manager), a city with the population the size of Guyton – approx 2,000 people – has a salary range for a city manager of $34,000 annually to $70,000 annually. The outlier is the City of Berkeley Lake in Gwinnett County, a municipality which has a median household income of $131,944. The median household income in Guyton is just over $56,000.
Among the reporting cities of slightly large size are:
Thunderbolt (Chatham County), population 2,683, with a minimum salary of $55,000 and a maximum salary of $65,000.
Lula (Hall & Banks counties), population 2,800, with a salary range of $50,000 annually to $85,000 annually.
Similarly, Sylvania's city manager is on an hourly rate with a minimum salary of $35.06/hour and a maximum salary of $58.89/hour.
Guyton has not yet begun its budget process for FY 2021.
The city council meeting will take place by teleconference on Thursday. Anyone wishing to participate or listen in may do so with the following information:
Dial – in Number: (469) 445-010
Meeting ID: 148 981 6588